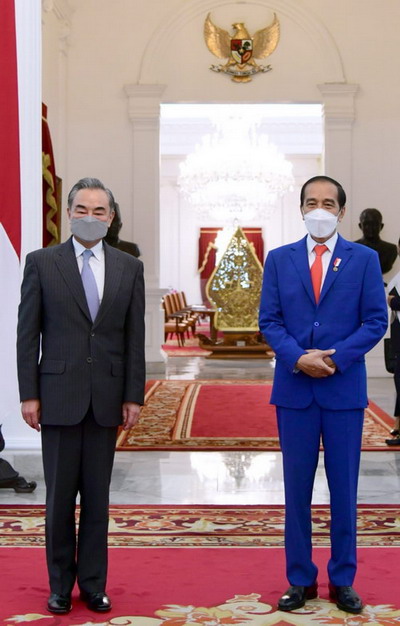 On January 13, 2021 local time, Indonesian President Joko Widodo met with visiting State Councilor and Foreign Minister Wang Yi in Jakarta.

Wang Yi conveyed cordial greetings from President Xi Jinping to Joko Widodo and expressed his condolences over the recent crash of an Indonesian passenger plane. Wang Yi said that China and Indonesia are both major developing countries and emerging economies. The cooperation between the two countries bears strategic significance and global influence. The two heads of state have maintained close communication since the onset of the COVID-19 outbreak, providing strategic guidance for the joint fight against the pandemic and the development of bilateral relations. The two sides actively synergized the Belt and Road Initiative and the vision of Global Maritime Fulcrum and achieved great progress in bilateral cooperation, demonstrating strong resilience and enormous potential of China-Indonesia cooperation despite the pandemic. China is ready to jointly implement the consensus of the two heads of state with Indonesia, and push for greater development of bilateral relations in the post-pandemic era, based on the main themes of solidarity against COVID-19 and development cooperation.

Wang Yi said that the two countries have successfully conducted Phase 3 clinical trials of COVID-19 vaccines and their emergency use, setting an example of cooperation on vaccines among regional and developing countries. President Xi Jinping has repeatedly stressed that the pandemic is a common enemy for all mankind and unity and cooperation are the most potent weapon against it. Despite the mounting domestic demand of the vaccines, China is willing to continue supporting enterprises from both countries in vaccine production and purchase cooperation so as to jointly promote the accessibility and affordability of COVID-19 vaccines for developing countries and advance the building of a global community of health for all. China is ready to join hands with Indonesia to promote Belt and Road cooperation of high quality, facilitate the construction of large projects such as the Jakarta-Bandung high-speed railway and the regional comprehensive economic corridor, and enhance cooperation in scientific and technological innovation to keep pace with the fourth industrial revolution and create new sources of growth in sectors of 5G, big data and e-commerce.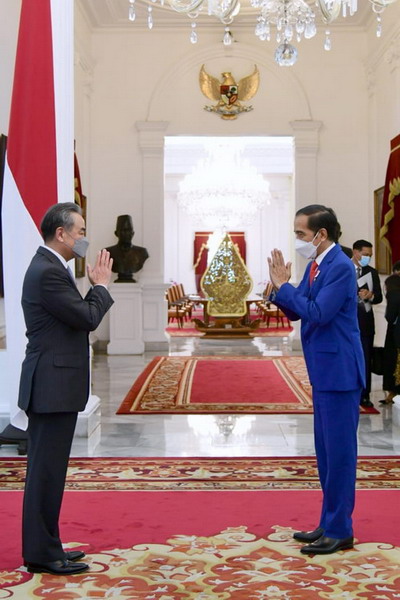 Wang Yi said that China values Indonesia's important status and role within the ASEAN and is willing to work with Indonesia, on the occasion of the 30th anniversary of the China-ASEAN dialogue relations this year, to elevate China-ASEAN relations, forge the Blue Economy Partnership and facilitate the enforcement of the Regional Comprehensive Economic Partnership at an early date. China supports Indonesia in assuming G20 presidency in 2022. China stands ready to work with Indonesia to jointly adhere to open and inclusive multilateralism, uphold international fairness and justice, and push for global governance in the post-pandemic era as responsible major developing countries.

Joko Widodo asked Wang Yi to extend warm greetings and best wishes for President Xi Jinping. He said that two countries have enjoyed sound development of relations, and achieved remarkable results in public health cooperation during the pandemic. The COVID-19 vaccines provided by China have arrived in Indonesia. As the first recipient of China's COVID-19 vaccines, Joko Widodo expressed his gratitude to China for the strong support. Indonesia is willing to enhance cooperation with China, expedite synergy between the development strategies of the two countries and actively promote cooperation in key projects such as the Jakarta-Bandung high-speed railway. He hopes the two sides will further deepen cooperation in trade, investment, finance, culture and other fields. Indonesia is willing to make joint efforts with China to practice multilateralism and promote regional peace and development.

During his visit to Indonesia, Wang Yi also held talks with Foreign Minister Retno Marsudi and jointly met with the press. He met with Indonesia's Coordinator for Cooperation with China and Coordinating Minister Luhut Binsar Pandjaitan as well.