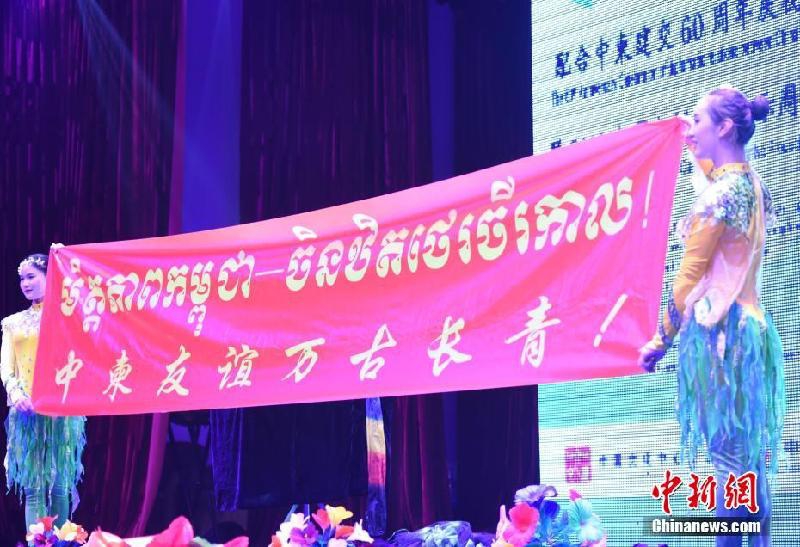 PHNOM PENH, April 21 (Xinhua) -- A troupe of Chinese artists from eastern China's Jiangsu province performed a variety of traditional dances, songs and acrobatics here on Saturday to celebrate the 60th anniversary of the China-Cambodia diplomatic relations.

A group of Cambodian artists also joined the two-hour performance, which was held at the iconic Chaktomuk Theater in Phnom Penh, capital of Cambodia.

Zuo Wenxing, political counselor of the Chinese embassy to Cambodia, said the event had not only deepened cultural relations, but also further promoted traditional friendship between the two countries.

She said as part of the cultural events marking the 60th anniversary of the China-Cambodia diplomatic ties, Cambodian Princess Norodom Buppha Devi will lead a troupe of Cambodian artists to perform the Royal Ballet in Beijing later this month.

Uk Socheat, a secretary of state at the Cambodian Ministry of Culture and Fine Arts, said the Sino-Cambodian ties have become closer in recent years thanks to their bilateral cooperation.

He said China's Belt and Road Initiative has benefited all countries around the world, including Cambodia.

Spectators said the performance was amazing and would importantly contribute to promoting cultural ties and people-to-people relations between the two countries.

"I have never watched this kind of cultural performance before. It was an amazing performance -- both Cambodian and Chinese artists are very talented," Vanna Sothealeak, 19, a student at the Asia Euro University, told Xinhua.

Shared her view on the Sino-Cambodian ties, Sothealeak said, "I feel very happy to see China treat Cambodia as a brother."

"The Cambodia-China relations are now very close, and China has helped Cambodia a lot such as roads and bridges," Mom Bunla, another 19-year-old student at the Asia Euro University, said. "I want to see closer cooperation between China and Cambodia in the future."