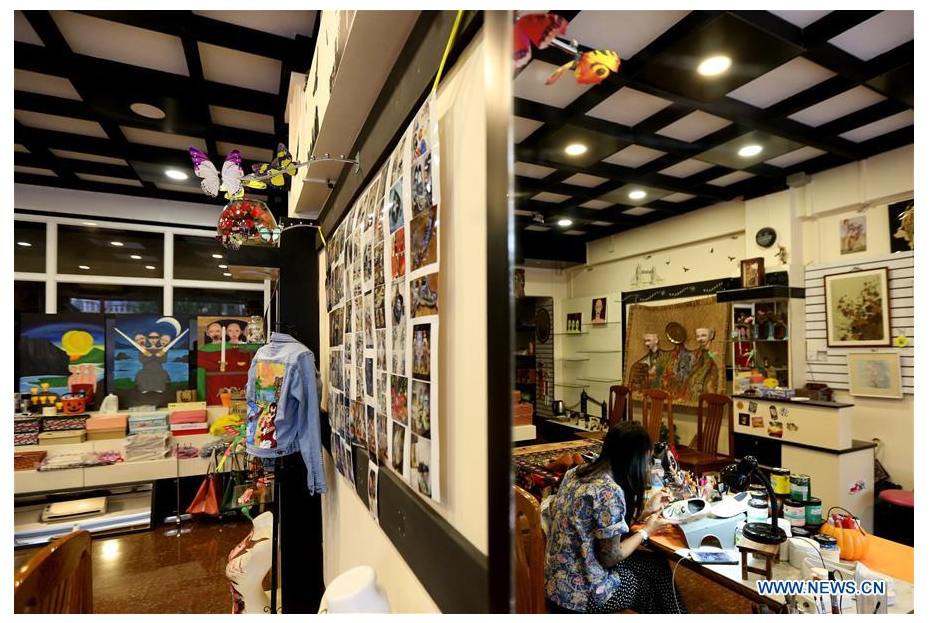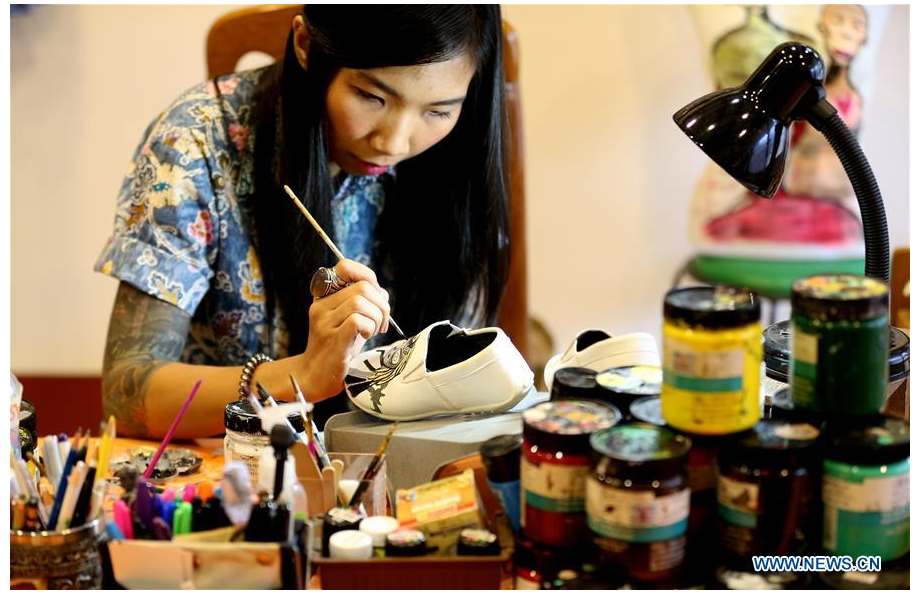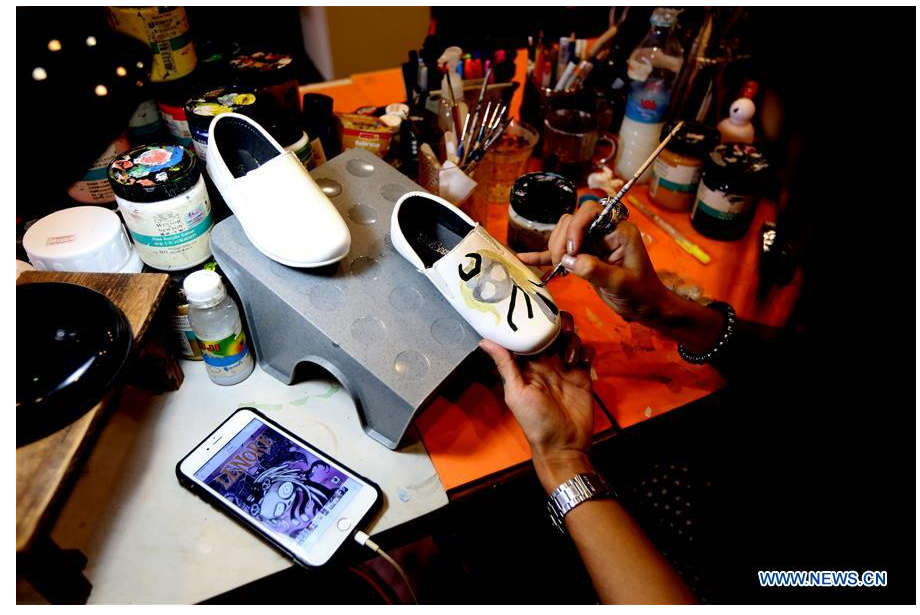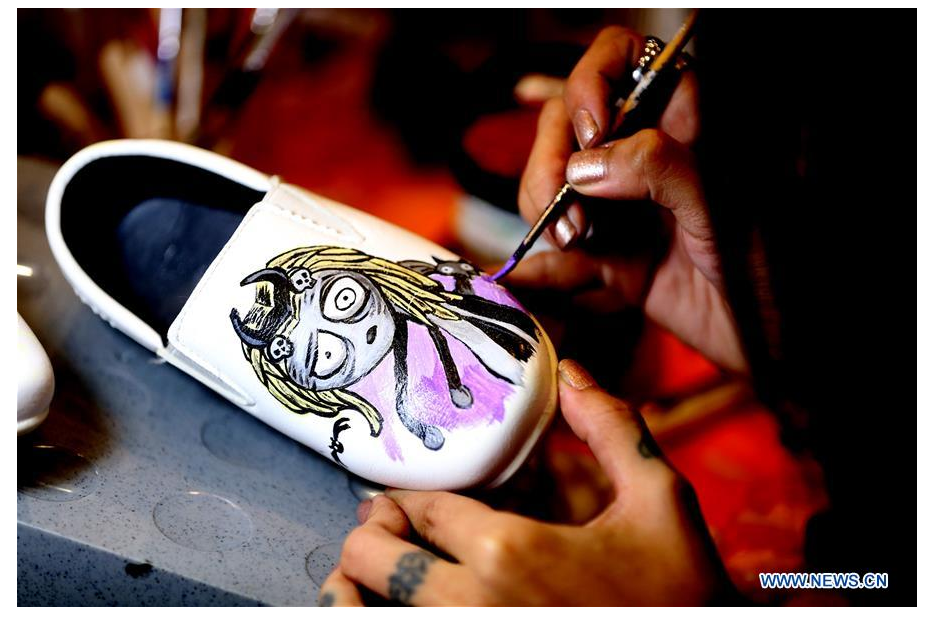 YANGON, Oct. 10 (Xinhua) -- Nge Nge, a young Myanmar artist, has been in the custom art field for more than three years when she turned her passion into profession.
The childhood hobby of drawing and painting helped Nge Nge discover her passion and later she started doing custom artwork by painting on her accessories such as bags and shoes.
"My artworks were recognized by people after I posted some photos of my personal accessories painted by myself on Facebook. By doing so, my close friends started asking me to create custom items for them," Nge Nge told Xinhua.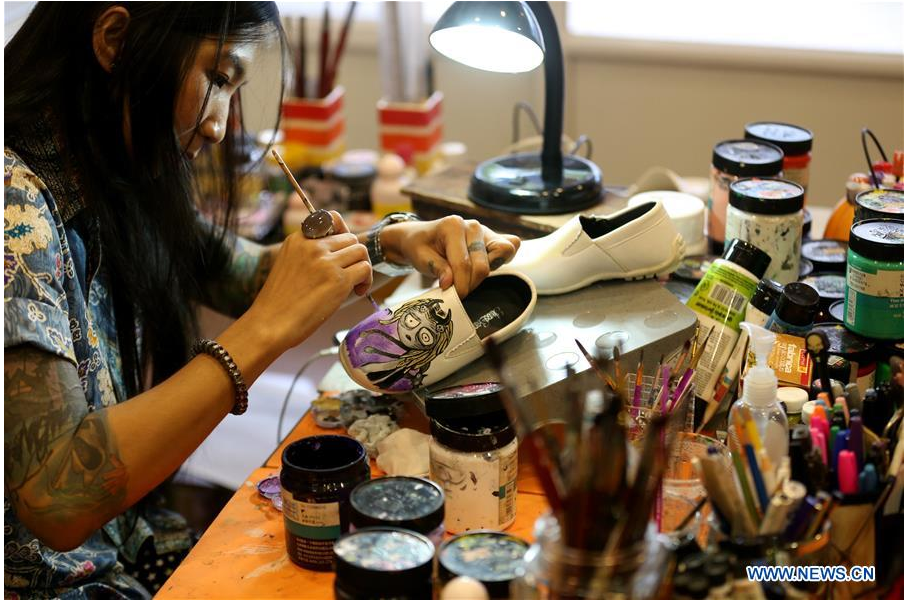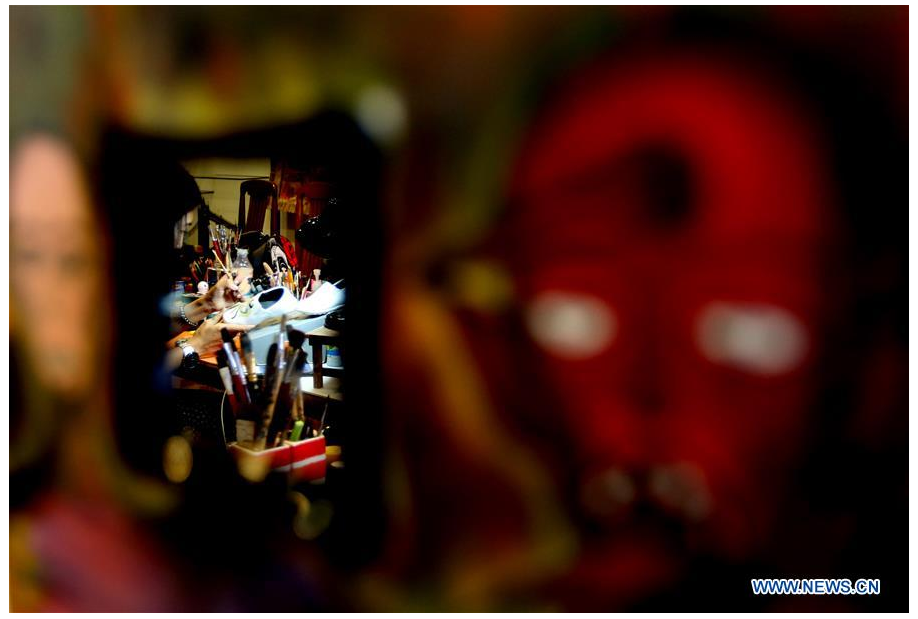 Her hard work and passion finally paid off. She started getting orders placed by strangers from her Facebook page "Nge's Customized Art" over one year ago.
"The more orders I get, the more I feel responsible as I must produce perfect artwork and I have to handle the pressures of deadlines by customers as well as their satisfactions."
"Some customers don't tell me what they want me to draw on their things. They let me draw anything I want, so I have to study what kind of people they are, what they would like before drawing something related to them," Nge Nge said.
Most of the orders placed by the customers are their favorite cartoon characters and flowers pattern paintings on their accessories - phone covers, footwear, shawls, clothes and bags, and Nge Nge set the affordable prices for her artwork as her customers are mostly female office staff.
She prefers drawing and painting sceneries on things, but not to be stuck in one style. "I'm trying to spread my net wide, expanding my skills by painting varieties of styles - from sceneries to cartoon characters."
Nge Nge is training herself to polish her skills in portrait drawings on things as many customers are asking her to draw the portraits of artists they adore. "I'm not really confident with drawing portraits," she said.
Mainly using acrylic paint, her hand-painted shoes are most demanded by the customers and they cover from woman's flats to men's sneakers.
"She gives diligent care on her work and I love her artworks as they meet my satisfaction. Now, I have placed three orders at hers to draw my favorite band name, logo and an artist on clothes, shoes and bag so far," Hnin Nu Lwin, one of Nge Nge's customer, told Xinhua.
"My inspirations don't come from a specific artist. I don't want my artwork to be influenced by other artists' vibes, but I study and admire every artist' work from both home and abroad," Nge Nge said.
Nge Nge's customized art journey was not that smooth and her journey was stopped for a while in the past as she had some difficulties relating to the raw materials.
After a short break, she gave her talent a shot and honed her skills again with better artwork and quality creations, changing her materials from marker pens to acrylic paint.
Nge Nge mentioned that she normally does not turn down customers' order, even though she knows some orders are way difficult for her to deal with, and this become her weakness. She said she has not received any bad comments or feedback from her customers.
At present, her customized art business may run in small scale, but it is like a small paradise for Nge Nge who said "I have no pressure as I'm doing what I love."
"What I love about the custom art is that it can make people feel that they are the owners of personalized or limited items which exist only for them," she said.