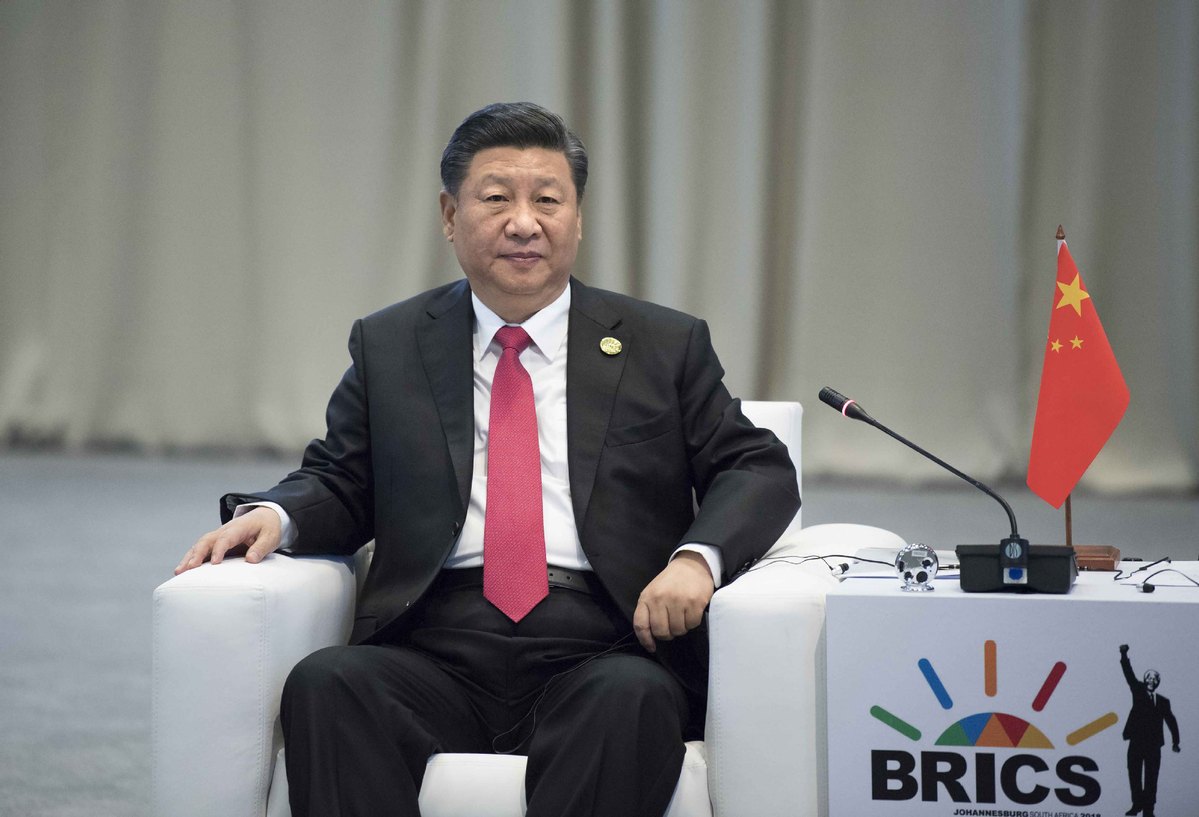 President Xi Jinping attends an informal meeting to commemorate the 10th anniversary of the BRICS mechanism in Johannesburg, South Africa, July 27, 2018.[Photo/Xinhua]
President says joint efforts should also include safeguarding common interests
BRICS countries should make joint efforts to build open world economies and safeguard common interests, President Xi Jinping said on Friday.
Xi made the remark while attending an informal meeting in Johannesburg, South Africa, to mark the 10th anniversary of BRICS summits.
Xi called on BRICS members to enhance practical cooperation in such areas as trade, investment, finance, infrastructure and people-to-people exchanges to ensure that BRICS countries' new industrial revolution partnership yields real outcomes.
Xi proposed that BRICS Plus cooperation be expanded so that other emerging markets and developing nations could participate in cooperation with BRICS countries.
BRICS has grown from an idea into an international cooperation platform in the past decade, Xi said, adding that BRICS countries will face great opportunities as well as challenges in the coming decade.
BRICS countries should follow the trend of economic globalization and work hard to usher in a second golden decade, Xi said.
A declaration released on Thursday said leaders of the BRICS countries expressed satisfaction with the group's achievements as a strong demonstration of BRICS cooperation for the attainment of peace, harmony and shared development and prosperity.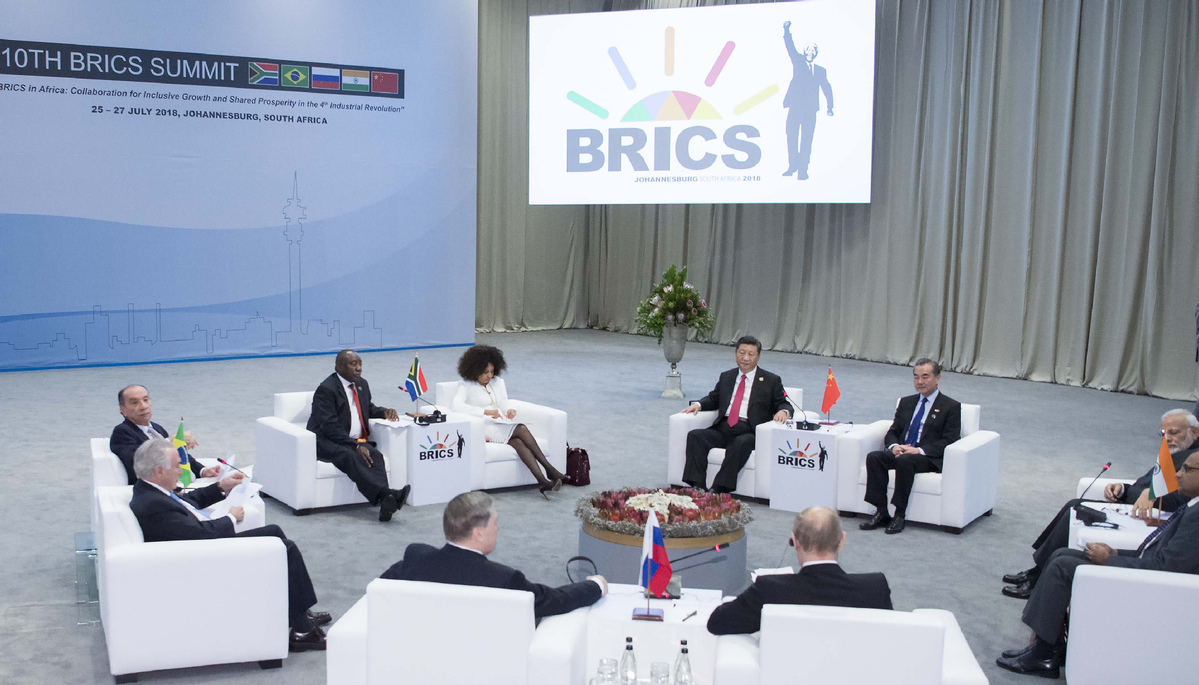 Chinese President Xi Jinping, South African President Cyril Ramaphosa, Brazilian President Michel Temer, Russian President Vladimir Putin and Indian Prime Minister Narendra Modi attend an informal meeting to commemorate the 10th anniversary of the BRICS mechanism in Johannesburg, South Africa, July 27, 2018.[Photo/Xinhua]
Over the past 10 years, BRICS countries have carried out substantial cooperation in an array of areas, laying a firm foundation for the bloc to play a larger role on the world stage, including in the global efforts to tackle climate change and promote sustainable development.
One of the most important achievements of BRICS in its first decade was the establishment of the New Development Bank, created in 2014, which fills a critical gap in project funding, South African President Cyril Ramaphosa said during the BRICS Business Forum on Wednesday. The bank has made loans totaling $5.7 billion to over 20 sustainable projects from the BRICS countries, NDB officials said.
BRICS has increased people-to-people ties, including through museum exhibitions, film festivals and educational programs, in order to boost understanding and trust between member states and consolidate the foundation for closer partnerships.
The group's performance has surpassed initial expectations, Anil Sooklal, South Africa's ambassador for BRICS, said at a news briefing, adding that BRICS is impacting the global stage more than ever before.
BRICS also has grown into a significant force to safeguard and promote international fairness and justice.
Its members have helped increase the representation of developing countries in the International Monetary Fund and the World Bank in recent years, making the bloc - representing about 40 percent of the global population and a quarter of the world economy - an accelerator in reforming the global economic governance system.
Despite great headway, one of the biggest challenges that BRICS faces now is the rapid change in the global order that has made member countries prominent actors in regional and global affairs, said Iqbal Surve, chairman of the South African chapter of the BRICS Business Council.
Xinhua contributed to this story.